I finally took my first cruise this year! [read my Top 5 Cruise tips here ]
I've been wanting to visit Cuba since last year, but I found the prospect of planning and arranging it daunting. When a cruise out of Tampa to Key West & Havana became available, I thought it was the perfect opportunity for my initial visit to Cuba. So I embarked on my first cruise, which also marked my first time in both Tampa and the Keys. I have lots to share, so I'll start with the top 5 highlights from Tampa & Key West.
Meeting Tony Dungy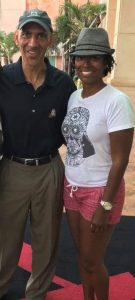 I'm not a huge football fan. I don't have a dedicated team I route for as of yet–though I have it narrowed down to like 3 contenders now 😀 I am, however, a big Peyton Manning fan. 🙂  So I came to know of Coach Dungy during Peyton's time with the Indianapolis Colts. I've always respected Coach Dungy, not only for all he accomplished on the field, but how he carries and comports himself.
So imagine my surprised when I literally bumped into Coach Dungy leaving my hotel in Tampa! He was in town for a pre-season game of between the Browns & the Bucs.  He was so nice and friendly.  I didn't want to bother him, but he didn't mind spending a few minutes chatting and taking pics.
This got my cruise adventure off to a good start.
Hemingway's House
As a writer, I couldn't pass up the chance to visit Ernest Hemingway's  Key West house. The tour I took also included a walking tour of old town Key West and Sloppy Joe's. The house tour didn't take too long and was quite entertaining.  To say Hemingway and his wife Pauline has a slightly antagonistic relationship is an understatement-lol. I saw the legendary six toed cats, saw his writing studio (which I really liked) and picked up a few amusing anecdotes regarding Hemingway's tremulous relationship with Pauline.
Sloppy Joe's Bar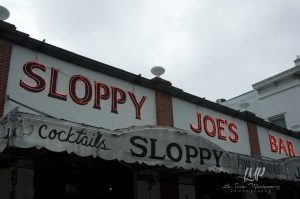 Sloppy Joe's Bar is a Key West tradition (according to their website). It is known more famously, at least by me, as Ernest Hemingway's main hang out in Key West. The iconic bar is known for its excellent Sloppy Joe sandwiches and their outstanding Rum Runners. And I had both when I visited. If you're ever in Key West, do yourself a favor and stop by for a bite to eat and a most excellent cocktail.
Chocolate Covered Key Lime Pie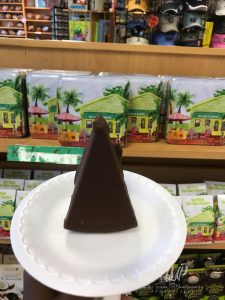 Now, what's a trip to Key West without sampling some key lime pie? I decided to try out the frozen, chocolate dipped key lime pie from the original Key Lime Pie Bakery. I'm not a huge key lime pie fan usually, but this was very good. Easily the best I've tasted. The chocolate really pares well with the tartness of the key limes. I wished I'd gotten another piece for later, but I didn't have a way to keep it cold on the cruise ship. 🙂
Key West Charm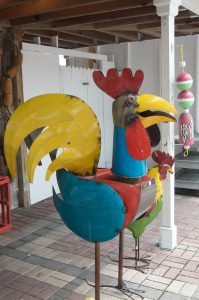 Key West, part of the Florida Keys island chain, marks the southern most tip of the United States.  Key West is known for its colorful conch style homes, historic ties, and art scene. For me, strolling through Old Town was very reminiscent of Charleston. I loved the architecture, the landscaping, and the colorful mansions. There is a definite quirky charm to the city.
---