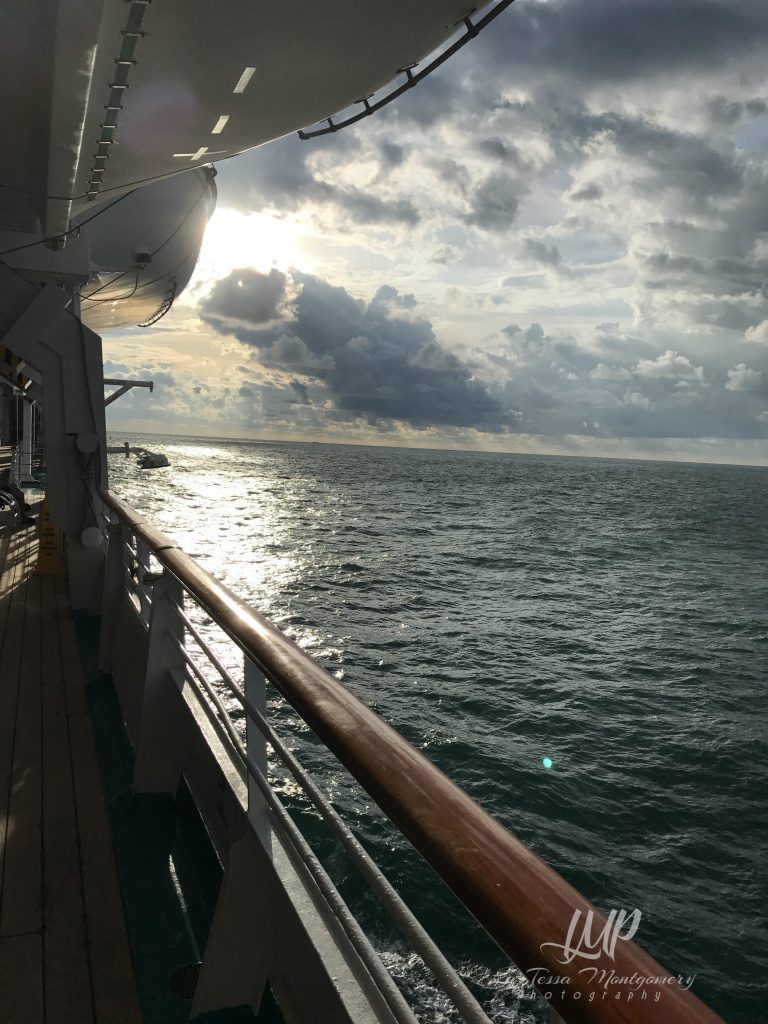 I've been wanting to go on a cruise for a while, so when the opportunity arose to visit Key West & Havana, Cuba, I jumped on it. I will admit, I was a bit nervous about being on ship for 4 days, but my fears quickly calmed once I got my first "sunset at sea "view.
Now, back to these fears… Being that this was my first cruise, I did TONS of research beforehand to prepare ~surprise, surprise~  🙂 I scoured the internet and polled friends about what to expect, things to do, & things to not do while cruising.
Based on my prep & experience, I've compiled, what I think is, THE essential top 5 cruise tips for first timers.
1.Cruise with a purpose
Did you book your cruise as a vacation, for work, or maybe you are going as part of an organized event? Are you looking to relax & leave your every day stress behind for a while? Or are you going with a group of friends to party and have a good time?
If you're there to party, check into events, shows, and special dinners scheduled while you're at sea to capitalize on the excitement. Also, look into the number, type, and theme of the bars aboard your ship. This allows you to scope out where you think you'd want to spend your time and plan accordingly. If you're there to relax, look at the amenities the ship offers like spas, number of pools, lounges, open deck space, etc. These are spots where you can kick back, enjoy a beverage, the sunset, or that new book you've been waiting to read.
Remembering your purpose for cruising will help you make proper itinerary choices and avoid time, energy, or emotional sucks that could distract or detract from your enjoyable vacation.
2. Arrive early
If you can, arrive to your departure city at least a day before you are scheduled to set sail. Arriving the day before allowed me have a pre-vacation meditation, of sorts. I was able to settle down, ensure I had all I needed for my trip, and then make a run to store when I realized I didn't. 🙂 More importantly, this gave me the peace of mind that only comes from knowing I would not have to contend with late or delayed planes that might cause me to miss my cruise.
Be sure you know what time check in starts for the cruise. Depending on the size of your ship and how many people are cruising, you can possible get through the process quicker by showing up early. I arrived to the port the suggested 3 hours prior to setting sail and the check in process was smooth and moved quickly. If you're concerned checking in too early will result in too much free time (if there even is such a thing 😉 ) before setting sail, don't worry. The ship is fully prepared for your arrival.  I was able to check out my room, grab some food & beverages, and hit up the pool while the rest of the cruisers boarded.
3. Carry on your luggage
One thing I learned during the boarding process is that unlike the airlines, my cruise line had no limits on the size luggage you could carry on. I didn't know this so I checked my bag, which left me at the mercy of the luggage porters to deliver my bag to my room. It took about 4 hours to arrive. 😐
Unless you have multiple bags or heavy, unwieldy ones, I strongly suggest you carry on your luggage with you. Not only will you have immediate access to it, you'll have peace of mind knowing you've secured your property. On my ship, the porters delivered luggage by placing in the hall by your room. While I didn't need anything from my bag, I went back to my room every hour to check on it's arrival. I was very uneasy with the thought of my luggage just chilling in the hallway unattended.
If you do choose the check your bags, be sure to take any items you'll need for the first few hours on the ship (swimsuits, sunscreen, books, electronics, etc.).
4. Pack Wisely
I cannot reiterate this enough!  Trust me.
Clothes:
Realistically, you probably only need one outfit per day, plus any outfits needed for special events (Captain's Dinners–which may be formal–, theme parties, shows), swimwear & sun protection, and a couple pair of shoes (one comfy & casual, one dressy pair). That's it. Do NOT do what I did. I easily packed 5 outfits & 3 pairs of shoes too many for my 4 day cruise! 😀
Alcohol:
Know the alcohol policy of your cruise line and adhere to it–nothing worse than getting your liquor tossed because you either brought too much on board, or you were not allowed to bring any on board. My cruise line allowed for 1 bottle of wine per guest. Now, for the crafty soul that wishes to bring more liquor on board, there are ways around this. A little effort online, and you'll find a trove of resources. 😉
Misc: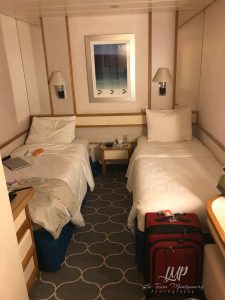 Review the travel essentials I recommend in my post My Top 7 Travel Tips for Solo or Group Travel.
In addition to what I have listed there, pack things that make your down time more enjoyable: books/reading devices, music, hobby items, etc.  You can pass your days at sea with a variety of activties, but if you're like me, at some point you'll want some some down time. Also, the staterooms are tiny (see pic to the right for proof 😀 ), bring items that will help pass time in the roomier, more enjoyable settings on the boat.
5. Explore the boat
Most cruise lines have their fleet posted on their website. So before you even leave for your cruise, take the time to pull up the deck plans for your ship. This will allow you to locate your room, know where the facilities are (such as the casino, lounges, pools, restaurants, etc.), and get a general sense of the boat's layout. I tend to get turned around easily, so getting a feel for my "home" for the next four days helped increase my comfort and eliminated some of my anxiety of feeling "trapped" on the ship.
Once you board and get settled, explore as much of the boat as you can to get a lay of the land. Locate the areas that caught your attention during your perusal of the deck plans, keep a lookout for ultimate chill out spots, plot out a couple of routes to & from the popular places (dining halls, pools, etc.), and locate the stairs.
Even with me doing this, I still got turned around plenty of times heading to my room. I'm still working on my navigating skills. 😀
For all you cruise vets, did I include your top 1 or 2 tips? If not, drop them in the comments, along with if it is something you found out the hard way…sort of like I found out I did not, in fact, need 3 outfits per day. 😀
Here are a few snaps of me doing what I did best on the cruise, relaxing, catching the sun, and enjoying very excellent cocktails.
---