What is Cinco de Mayo?
In Mexico, Cinco de Mayo is the celebration of Mexico's victory over the French in the Battle of Puebla. Here stateside, we mostly celebrate Mexican-American culture on this day. Being that as it may, when most of us think of Cinco de Mayo, the first beverage that pops into mind is margaritas. While I like margaritas as well as the next person, it's not the only Mexican inspired cocktail you can imbibe on this day. So looking for drink inspiration, I came across this article "4 Delicious Mexican Cocktails To Drink This Cinco De Mayo Instead Of Margaritas"  Kismet I tell ya!
So, in honor of my adventurous spirit, I am going to make Paloma my Cinco de Mayo cocktail of choice this year!
The Paloma is a refreshing tequila cocktail, just perfect for warm weather enjoyment.  In fact, according to some, it's more popular than margaritas in Mexico. These two cocktails have a similar base profile (lime juice, tequila, & a sweetener), but I find the Paloma to be lighter and more fruit forward due to the use of fresh grapefruit juice, vs. the sweet & sour mix used in 'ritas.
Paloma Recipe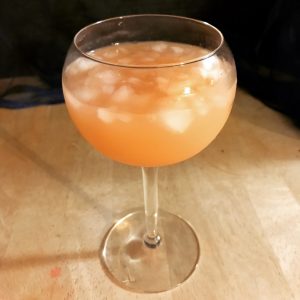 Searching the internet for a Paloma recipe will yield you several variations: some with grapefruit juice, some with grapefruit soda, & some with a combination of both.  I find the following to be a good, standard Paloma recipe:
2 oz of fresh grapefruit juice
2 oz of tequila
2 oz  of club soda
1/4 oz (1 TBSP) of fresh lime juice
1 tsp sugar -or- 1/4 oz of simple syrup, or agave
Directions:
Salt the rim of a glass (high ball or collins)
Combine grapefruit juice, lime juice and your sweetener of choice
Add tequila and ice, top off with club soda
Enjoy, garnish with a grapefruit wedge if you'd like
Other Paloma Options
You can leave out the club soda and sugar, if you choose, for a stouter beverage
You can substitute grapefruit soda for the juice & club soda this recipe calls for
You can use both the grapefruit juice & grapefruit soda, to double up on the grapefruit goodness 🙂
Use a different flavored sodas or carbonated beverages
The possibilities are endless. For mine (pictured above): I left the salt rim and sweetener out (I use the Simply line of juices, & I find them to be perfectly sweet as is); and in place of the club soda, I used guava ginger beer from Rachel's Ginger Beer.  DELICIOUS!
How ever you choose to celebrate Cinco de Mayo today, have fun and be responsible!