This past Saturday the Kentucky Derby had its 143rd running at Churchhill Downs. The Derby, also known as "The Most Exciting Two Minutes in Sports", lived up to the hype as there was no clear cut favorite this year, AND the field of 20 horses would have to storm around a super muddy track—facts that led to some super colorful betting analysis & decisions at the party I attended 🙂 . Exciting times to be had by all, good thing we had plenty of good food, good drink, and good camaraderie to get us though.
Kentucky Derby Traditions
The Derby is full of traditions: the roses, women in big hats, nattily dressed gentlemen, and, of course, mint juleps! My personal Derby tradition includes all of this, plus going to Josh & Megan Cathey's Derby party.  I remember the day we were sitting around discussing cocktails and mint juleps came up.  We were both intrigued, yet slightly afraid after eyeing the ingredients. But after looking into the history, we decided she should host a Derby party so we could taste mint juleps with no judgement. 🙂  And from there a tradition was born! And due to this, I'm making mint juleps my Cocktail of the Month for May.
Side note– Megan is single handedly responsible for exposing me to wines and bespoke cocktails. As neighbors, we explored lots of spirits & beverages over the years. In fact, our sense of adventure and dedication to tasty and flavorful libations helped cement a sisterhood that has spanned over a decade.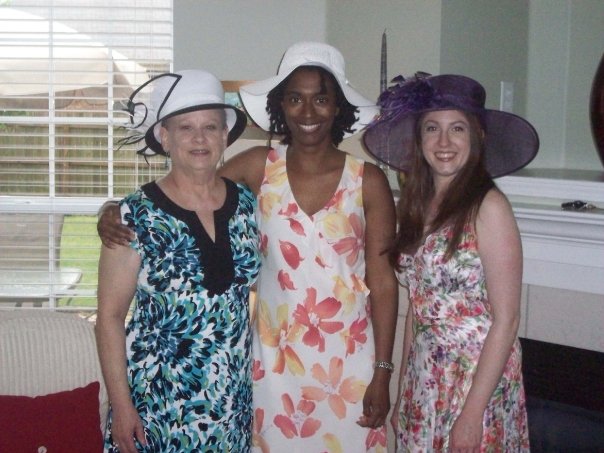 Mint Julep Recipe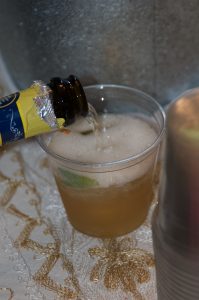 Mint Julep is the official drink of the Derby, having been served there since 1938. The julep is a simple cocktail consisting of bourbon, mint, sugar, & water, served in a silver or pewter mug.
Yes, bourbon and mint. And yes, it's a rather strong drink with a bit of an acquired taste.  But you can't have a Derby party without it. 😉
Here is Megan's recipe for making this classic cocktail in big batches:
Bourbon (Woodford Reserve is traditional, but any bourbon will do)
Mint simple syrup (recipe below)
Directions:
Make simple syrup by combing equal parts water and sugar ( 3 cups water, 3 cups sugar) and a bunch of fresh mint leaves in a pot. Heat on the stove, cooking until the sugar melts.  Remove from heat, allow syrup to cool, strain mint.  Keep in the fridge until you're ready to use it.
Combine mint simple syrup and bourbon in a pitcher

The measurements are not exact, but it's roughly 3 cups of bourbon to equal parts mint simple syrup. I suggest adding the simple syrup in 1/2 cup batches, tasting along the way. Stop when you reach your desired level of sweetness.

 Serve over ice.
Enjoy with friends as you cheer your favorite horse on!
Here are a few snaps from the Derby parties over the years.  Plenty of sassy hats and natty gentlemen. 😉