While prepping for my trip, I searched for THE quintessential Dominican Republic beverages I must try while on the island.  I came across this article listing the top 5 drinks you must try while in the DR and immediately thought to myself: Game on!
How The List Rated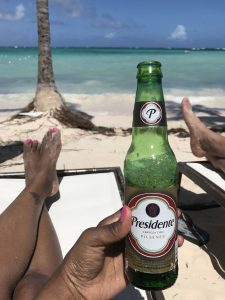 1. Presidente Beer ⭐️⭐️⭐️  As far as beers go, the Presidente isn't bad. Light and refreshing, perfect for hot days on the beach. It's a pilsner style, so it's not loaded with flavor and character, like I've come to expect from my fav craft beers, but it's not bad. And it's really cheap.
2. Rum & Coke ⭐️⭐️⭐️ Shortly after we checked into our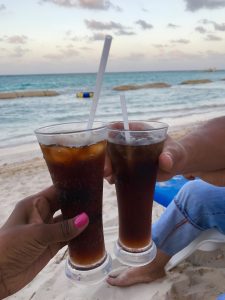 apartment, we went for a walk on the beach to enjoy the sunset. We came upon a little drink hut and had our our first Rum & Coke, or Cuba Libre. It's a good, standard drink, not much flare to it. The type of rum definitely makes a difference though.  Afterwards, we purchased a couple of bottles of Brugal rum and made our own to enjoy over the course of our stay.  We also made a version called the Santo Libre, which is traditionally rum, Sprite, and lime- but we used ginger ale. Delicious & refreshing.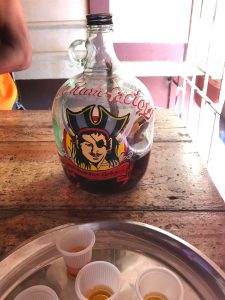 3. Mamajuana 🌟🌟🌟🌟🌟 What is Mamajuana, you may ask?  Mamajuana is the national drink of the Dominican Republic, made from rum, honey, red wine, tree bark, and other herbs. Everywhere we went, we had people trying sell us bottles or giving us samples of their version of drink. The locals swear it's a cure all for everything from the common cold to liver & kidney issues. But it's most celebrated claim is that of being an aphrodisiac.  I can't count the number of men that approached us with the *nudge nudge*, *wink wink* sales hook. 🙂  I won't lie, Mamajuana is a tasty concoction in general, but you never really know what you are going to get with each taste, as people make their own versions with slightly different ingredients.  My favorites were from the Pirate Rum Factory and a gentleman we ran into while shopping.  The bottle I purchased from the latter is full of bark and herbs, which means I can continue to make my own Mamajuana for the next few years (10 or so, according to him) by refilling it with rum, wine, and honey when it gets low. CHEERS to that!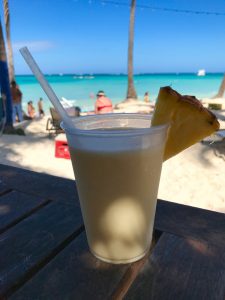 4. Pina Colada ⭐️⭐️⭐️ Again, another good, standard drink. This one edged out the others I've had before because you can taste the difference the fresh ingredients make.  It was tad too sweet for me, given we were about to sit out in the sun, but definitely a nice, cool, refreshing drink to beat the heat with.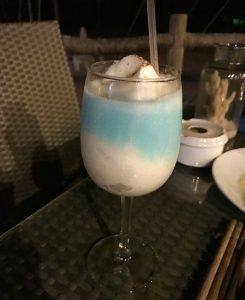 5. Coco Loco ⭐️⭐️⭐️⭐️ Now these were GOOD!  I had them at Canoa and at Jellyfish. I believe the one I had Canoa was a bit more traditional as it was served in a coconut & didn't have the blue curaçao. The one from Jellyfish may have edged out Canoa because it was much fluffier, not quite as sweet, and appealed to my taste buds a bit more.  Either way, an excellent drink.  It is on the sweet side, so I had it in place of dessert after dinner.
Other Island Drinks
We also explored the other beverages the Dominican Republic had to offer.  The drink menus from the various spots we visited were very tempting.  Some of our favorites were:
Sangria ⭐️⭐️⭐️⭐️ Overall, the sangrias I had were quite tasty, but my favorite was from Citrus. Citrus is an unassuming restaurant within easy walking distance from our apartment.  The food is top notch, and the drinks were even more so.  I'm not usually a white sangria girl, but they had the ABSOLUTE best sangria. It was so fruity and fresh tasting. And potent!  It's my goal to recreate this sangria this summer.
Caipirinha ⭐️⭐️⭐️⭐️ The Mister LOVES Caipirinhas and we were not disappointed in those we had on our vacation. Then we came across the Caprioska while dining at Noah's– if you ever find yourself in the DR, do yourself a favor and check this place out– which is basically the vodka version of the Caipirinha . It was soooo good that I took Mister's cocktail and swapped it with what I ordered.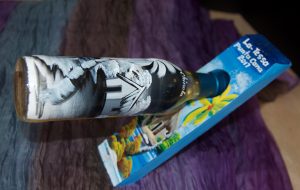 Pirate Factory Rum  🌟🌟🌟🌟🌟 I had the BEST TIME on this tour.  Lots of history & knowledge shared, plus the rums are top notch.  My favorite thing about the Pirate Rum Factory rums are the hand painted bottles.  They're just beautiful. They also have other merchandise their local artists will personalize for you. I opted for this really cool bottle holder that uses leverage to keep both itself and the bottle upright. I thought it was witchcraft when they showed me how to use it, but no!  Good old fashion science at work here. 🙂
Mojito  ⭐️⭐️⭐️⭐️⭐️ The mojitos we had at Canoa were the best I've tasted thus far in life.  Very balanced, full of flavor, and I loved all the mint leaves they left in the glass.  A nice garnishment, but also a nice way to continue to impart additional flavor to the drink.
Rum + Coconut Water  ⭐️ ⭐️ ⭐️ ⭐️ So, this was the drink the manager at Canoa told us about.  I asked him "What's a drink the local's enjoy?"  He quickly told me about his favorite beverage, Brugal rum and coconut water.  At first I was skeptical, but after my first sip this became one of my island favs.  The sweetness of the coconut water really pairs well with the rum.  Just take it slow, you are basically drinking rum and water.  Don't let the heat and potency of this drink get to you. 🙂