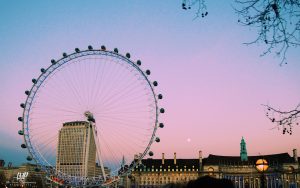 I'm often asked how I manage to travel as often as I do. Or how I survive my short, 4 day trips while managing to have an awesome time. Well, there's a definite method to my madness. Here are my top 7 travel tips for those about to take to the open road, be it solo travel or with a group.
Decide where you want to go
Do not laugh or discount this travel tip, even if it seems a bit obvious. 🙂 Often we are struck with wanderlust, but can't assuage it. Why? Because we have no real clue as to where we want to go. Or we panic about all that needs to be done in order to prepare. Take time to make a travel list. Do a top 10 list, a list by region, a list by country…whatever tickles your fancy. Just make a list. This way, you have somewhere to focus your attention on when it comes to the first, or next trip.
Do your research
Once you decide where you want to go and for how long, it's time to look at the nuts and bolts of making that idea a reality.
Do a quick search for flights and lodging so you have an overall idea as to how much your trip will cost. This allows you to properly budget, set timelines, and have a solid basis upon which to judge any "deals" that come your way.
Determine what travel documents are needed.  Do you need a passport? A Visa? Be sure to give yourself time to apply for, and receive, the necessary documents before your scheduled departure. Also, make a copy of any travel documents you are using.  Leave one set with a trusted friend at home, take another set with you just in case you lose your originals.
Look into the activities, sights, and experiences you want to do, then create a travel agenda.  I *may* be a bit of a planner and slightly more detail oriented than normal– I mean– average people 😉 . I create detailed travel plans to keep me on track, ensure I hit the high spots I've identified, and to ensure I never find myself overwhelmed with too much to do. Or worse, with nothing to do.
Safety- you should always be vigilant and aware of your surroundings. Some places are fine during day, not so much at night, some places draw a higher volume of pickpockets and scammers, while others may be best to steer clear of entirely. This is not a slam against any city or country, more of an edict to be aware there may spots that are not the safest for you for whatever
reason. When I'm traveling, especially as a woman solo, this is one of the things I do to keep me safe and increase my comfort level.
Take a moment to familiarize yourself with prevalent forms public transit where you are going. This allows you to work out the best, safest, and most budget friendly ways to take in the sights and get around the city or countrysides.
Be Prepared
Preparation is key:
Set travel alerts with your banks to ensure you are able to use your credit cards while traveling. Also, check on the best ways to facilitate purchasing in the countries you are visiting. In some cash is king, while others require a chip and PIN for all credit and debit cards. If you don't already have a chip in your card or know your PIN, it can take a few weeks to get one. So it's best to get this taken care as as soon as possible.
Work out the best way to attain local currency. Even if you plan to largely use your credit cards, you may find cash is better for public transport, tipping, or shopping in smaller shops. Look into the currency exchanges and banks for their rates and procedures. Airport ATMs are generally a safe and quick way to get local money at a low rate.
Be sure to pack seasonally appropriate clothing. Check the weather about a week out to ensure you have the right clothing to brave the weather. Also, keep in mind any weather trends that may happen so you're prepared for the occasional rain storm, cold front, etc.
Get an international plan for your cell phone. There is nothing worse than being abroad and wifi is not available.   Each carrier is different, and you may have to keep the addition for a month before canceling, but it's worth having. Especially if it means you can always send a text or pull up a map. It also means some protection from international call, text, or roaming expenses.
Make a plan for any language barriers. Most places speak english, but locals tend to appreciate your attempt to speak their native language. Familiarize yourself with a few common phrases (salutations,  "Thank you", "you're welcome", and basic directional words serve me best). Also, be sure you do not unintentionally offend by overlooking a custom your host country holds dear. In some places there is no such thing as personal space, in others getting too close is a no-no.
Don't forget the travel essentials!
Be sure to pack proper travel accessories! Depending upon your needs and where you are going, you may need a travel bag, sleep pillows, power adapters, luggage racks, etc. My favorite, and most underrated, travel accessories include generic plastics bags (for soiled clothing or shoes) and extra ziplock bags (for liquid or less-than-solid items). You just never know when you'll need them, and they take up almost no space in your luggage.
Don't forget your toiletry items. Be sure you have your medications, facial, hygiene, hair, and other such products. I am a fan of traveling only with a carry on bag + my personal item.  Because of this, I have to make sure all of my toiletry items will pass security.  Some things I pack, others I purchase once I land. You don't want have to toss expensive perfumes, lotions, or products because they cannot be taken on the plane. I've seen this happen more than once.
Save the name and address of the place you'll be staying in your phone.  Also, pack a printed copy of the same info, along with basic directions in a bag. Nothing like getting caught up in the excitement of the trip and forgetting where you need to go. ESPECIALLY after a night out on the town where you may have had a few adult beverages. Just saying…. 🙂
Don't Be Afraid to Explore
After days, weeks, months, or years of planning, you've made it to your destination. Do not be afraid to store your bags and go check out the neighborhood you'll call home for the next few days. I always give myself my time check out my surroundings, make acquaintances with the hotel co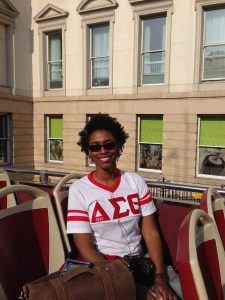 ncierge, and get an overall sense of self. Then go out and explore, experience, and enjoy yourself by trying out a few things that take you out of your comfort zone.
While you are exploring and being an adventurer, don't be ashamed to do the touristy stuff. I found riding on the top of the double decker tour bus in London to be the best way for me to take in the main sights quickly and get a good lay of the land. Because of this, I was able to better manage time by getting a truer sense of distance and cross some items off my list, thus allowing me the opportunity to get to some secondary things on my travel plan.
Chronicle
Take all the pictures, videos, and notes you can!  There is nothing like getting back from a trip and the excitement wears off a bit and you can't remember that cute little shop you saw, or that restaurant with the best lobster you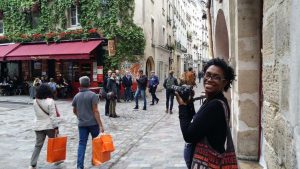 've ever had, or…. you get the idea. The one thing I never allow is for anyone to make me feel shame for documenting my journey. I take all the pictures I want, without being obnoxious or intrusive.  I also travel with a notebook and pen to write things down.  I like having specific places, dishes, or drinks so I can look them up later. I also like writing down my actual footprint for the day. Even with a travel agenda, I don't always follow it. I sometimes choose to go off script and I like a bit of detail around what I did or my feelings when I saw or experienced something unique. As a writer, taking down the scents, flavors, and overall atmosphere is invaluable to me when I am looking to add them to a story later.
Have Fun!!
The most important travel advice I have is to have fun and enjoy yourself.  You are living the dream, visiting a land you've been wanting to.  So do just that, relax your mind a bit, take it all in, and most of all experience.
These are the top travel tips I follow to increase my comfort levels, reduce anxieties, and help me just relax and enjoy myself.  Hopefully, you find them just as helpful! Did I list some of your's as well? Or maybe I left off one of your favs.  Let me know in the comments section! 🙂