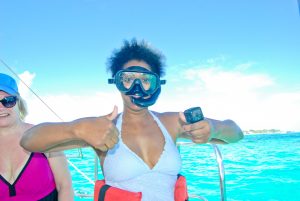 My trip to the Dominican Republic marks the first of 2 things: (1) my first time in the Caribbean & (2) my first time snorkeling!
Snorkeling was THE number 1 thing on my "list of things to do in the DR".  So after we arrived, we quickly booked a trip through our concierge with the guys at Bebe Catamaran for a half day of sailing, snorkeling, and fun in the sun.
After a brief panic attack and LOTS of wild hair, I can admit I had the best time & more snorkeling is definitely in my future.  If you find yourself in Punta Cana & want to have an awesome experience, I highly recommend you schedule an excursion with Bebe. And ask to be on Presley's boat! He and the crew make sure you have a good time. We swam, we drank, we ate, we danced, we just had a great time.
Check out the video above I made of my first time snorkeling! <or click here to view >> This was also my first time using my GoPro so bear with me 🙂 . And Yes, I realize my hair is a mess. And no, I really don't care. 🙂
Snorkeling was fun, but it was scary for a few minutes.  I'd never been that far out in the ocean, never been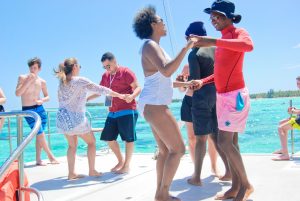 in water that deep (about 25-30 feet), and never had fish of that size swimming close to me.  When I first got in, I had a mild panic attack–to the point where the Mister thought it may be best for me to head back to the boat.  But I didn't come all the way to the Dominican Republic to not have this adventure! So I got myself together, conquered my fears, and got back in the water. 🙂  Here are my top 3 tips to enjoy your snorkel adventure:
Top 3 Snorkeling Tips
Bring flippers– this will help you move the through water easier and with less energy. This cruise didn't provide us with flippers, but I will definitely have them next time.
Use the floater– whether or not you can swim, the floater will help you navigate the waves better, using less energy to stay afloat in the water
Relax!– for first timers (like myself) it can be daunting to jump into the seemingly bottomless ocean to swim with the fishes (lol).  So take a minute-or 5- and give yourself time to become acclimated to the snorkel gear (breathing through the tube) & to the new surroundings (the waves, the sense of openness, fish brushing past you, etc), then just relax and enjoy.